ASME Engineering Ltd are proud to be one of the first London Based steelwork contractors to attain the prestigious CE Mark for the quality of the product it designs and delivers. ASME Engineering is certified to Execution Class 4.
The 'CE' certification demonstrates that ASME Engineering now have the requisite Factory Production Control system in place and fully operational. This verifies compliance with the detailed requirements of BS EN 1090:2-2008 and EN ISO 3834-3:2005.
The firms FPC System has been assessed and ASME Engineering is pleased to announce it has achieved a certified Factory Production Control (FPC) system in line with European CE Marking. The successful audit process was completed under the BCSA's Steel Construction Certification Scheme (SCCS) to BS EN 1090-1.
The CE Mark indicates a product's compliance with EU Construction Products Directive and enables the free movement of products within the European market. In this way, ASME Engineering can demonstrate to both public authorities and clients alike that their product satisfies the required levels of health and safety and structural strength.
Sandra Perkins, Technical Director at ASME Engineering was really pleased with the whole team at ASME Engineering who all worked towards achieving CE status and she said:
"ASME Engineering have been BS EN ISO 9001 certified for more than 10 years and operate a fully audited integrated management system encompassing the company's Welding Quality Management System and Factory Production control.
The successful certification is a further demonstration of ASME Engineering's ability to provide superior levels of service to its client base and is testament to the teamwork of our people. "
Compliance with the requirements of CE Marking was mandatory across the entire UK from July 2014.
Learn More about CE Marking
Useful links:
http://www.steelconstruction.info/CE_marking
http://www.steelconstruction.org/resources/technical/technical-ce-marking.html
Communaute Europeenne ('CE' or 'European Community') was introduced in 1995 and CE Marking was created to stimulate the free circulation of goods within the European Community by removing barriers created by differing standards in member states.
When applied to any product or equipment indicates that the manufacturer or its authorised EU representative has declared that the product of equipment compiles with all applicable European Directives.
Certification will become mandatory in the UK in July 2014, from which time it will become illegal to sell structural steelwork in the UK or the Republic of Ireland that does not carry the CE Mark.
CE Marking is not allowed unless the Factory Production Control (FPC) system under which they are produced has been assessed by a suitable certification body that has been approved to the European Commission.
Steelwork has been divided into four categories for certification and a steelwork contractor may not produce steel in a higher category than it is certified. The categories are:
Execution Class 1 – Farm Buildings
Execution Class 2 – Buildings
Execution Class 3 – Bridges
Execution Class 4 – Special structures (e.g. Power Stations)
ASME Engineering Ltd, which has been fabricating steel since 1986, demonstrated compliance with the new and more stringent European standards and was awarded the CE mark accreditation on 1st May 2014, to Execution Class 2. Asme has since gone from strength to strength achieving Execution Class 3 in September 2014.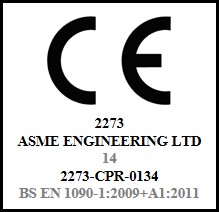 ASME CE Marking Guide