ASME Engineering Ltd.
ASME Engineering is a leading steel engineering company, supporting successful projects across the Southeast of England from its base in Harrow. ASME designs, manufactures and assembles CE Marked structural steelwork and architectural metalwork for construction industry projects of all sizes.
Major clients include: COMO; BWI; J Coffey Contractors; Erith Contractors; Collins Construction; ISG; O'Halloran & O'Brien; Skanska; Willmott Dixon; and Structure Tone.
Latest News
22/10/2021
Wear it pink
On Friday 22nd October 2021, everyone in the team here at ASME took part in getting involved in the wear…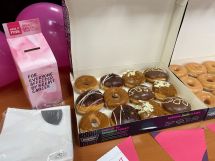 Read More
ASME Engineering's strong presence in structural, architectural and temporary steelwork has been forged through over 30 years of experience. The company's ability to oversee every aspect of steel manufacture and construction, bringing flexible but disciplined management to each project have consistently proved to be a major advantage to clients and their customers.
The companies London based workshop is equipped with the latest dedicated CNC software and machinery. This technology ensures ASME's steel remains cost-effective whilst maintaining very high quality standards through the companies integrated FPC systems